Wal-Mart fears a Demoractic win. They will be crippled if anyone comes to power and they might actually show a hint of being sympathetic towards the labour movement in the US.
In this article by the Wall Street Journal (do not accept the certificate), it is suggested that Wal-Mart is rallying managers and executives to 'encourage' employees to be mindful of the cost of unionization. While they're putting on airs that they are not telling employees how to vote in the next Presidential election, I wouldn't be surprised to see more stories like the one above as the election process heats up.
I also wouldn't be surprised to see Wal-Mart spend a massive amount of money on advertising as the campaigns rev up.
Why? I seem to recall in 2004 that Wal-Mart had a rediculous volume of GRPs during the 2004 election. They even had a brand called … you guessed it … "George". Here's their "George" logo: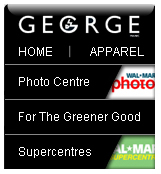 Is that a little "WB" in the "O" of "George"? Why would they need that? Was this brand launched during the 2004 election season with the express reason of trying to get American voters to constantly think of George WB?
Your guess is as good as mine, but I can't wait to see what they try to pull during the 2008 election.
P.S. I didn't realize that Wal-Mart is America's largest private retailer, but it makes perfect sense. I also appreciated the chart showing unionized labour in America over the last 20 years. Can we get a chart that co-relates that with the growing gap between the rich and poor in Canada and the US?