October 26, 2020
Covid Journal, October 26, 2020
Like a Bull in China's Shop
How dare us petty little Canadians for calling out genocide being carried out in China?
For years now, the Chinese government has been engaged in multiple forms of slave camps, forced labour and population control … and genocide …
The latest best example is the Uighur people in northwest China's Xinjiang province.
We are all reaping the benefits of cheap labour, but none more than companies that are very essential gateways to cheap Chinese products. I won't call them out here, but you can guess who they might be.
It's time we stood up. Thankfully, we're not alone with the condemnation of the treatment of these people:
In a statement, Foreign Affairs Minister François-Philippe Champagne said he is "deeply disturbed" by the troubling reports documented by the subcommittee.

He said he raised the issue of Uighur abuse with Michelle Bachelet, the UN commissioner for human rights, during a recent meeting in Switzerland.

Earlier this month, Canada and 37 allies also expressed "grave concerns" about the situation in Xinjiang at the UN, he said.
Now … if only we take this kind of principled stand with our own First Nations people. Maybe one day, they'll get their own source of clean drinking water.
A Couple of Links … You Decide on Their Merit
Link 1: 48 (and counting) deaths from a flu vaccine in Korea.
Link 2: Moderna CEO, CMO sells all shares as final vaccine trials begin.
As Moderna begins a late-stage trial of its coronavirus vaccine, chief medical officer Tal Zaks sold almost all his shares in the company, according to a report filed to the US Securities and Exchange Commission, raising concerns about his trust in the vaccine, according to Globes.

While Zaks and other Moderna officials have already been cashing out on shares for the past few months, they've increased the sales of shares since reports were published on a successful test of the vaccine earlier in July.
Both pretty mainstream sources, but both stories really aren't being talked about much in the public sphere.
As we hand over the fate of humanity to a collection of profiteers, let's keep stories like those above in mind.
The Undeath of Covid
There are many things out there that are more likely to kill you compared to Coronavirus. Here's a list of at least 5 possibilities.
But we don't hear about those every day.
The true nightmare of the Covid-19 narrative has come, just in time for Halloween: people aren't dying.
As thousands get tested, positive Covid results keep pouring in.
It's simple math, yes, but the death rate associated with Covid is no more than dying from non-pandemic related causes. Hell … the numbers from people dying from trees falling on their heads is probably bigger now. I'm kidding, but only kind of.
Also, it's very easy to get a daily accounting of the number of cases and kind of easy to get the total number of deaths.
But finding a chart showing the history of deaths in Canada related to Covid-19 seemed a little trickier. I resorted to a summary graph from Worldometers.info.
Here's a chart showing Canadian numbers (this site has a TONNE of valuable data that lets you interact with the results):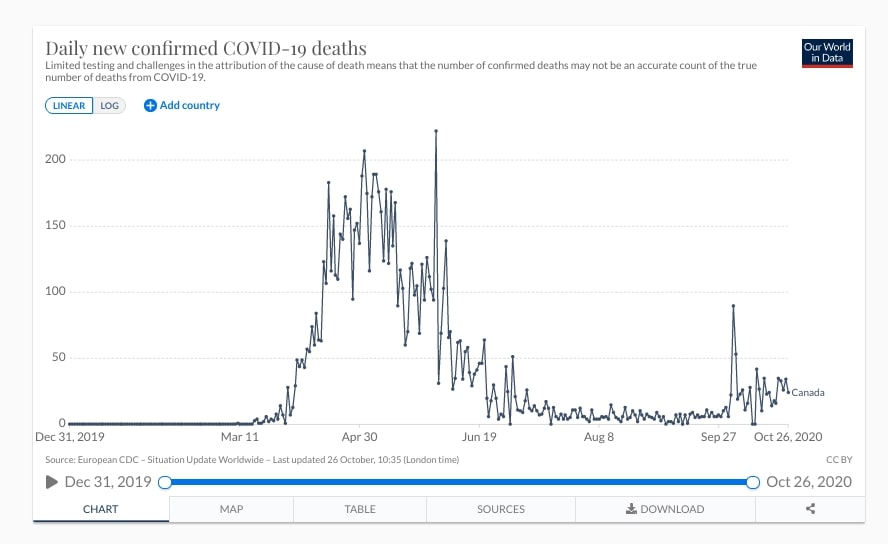 Since the beginning of July, the number of deaths has been roughly 1,300 up to just a couple of days ago (8,615 on July 1 – 9,946 Oct 25).
That's 325 per month over the last four months, with a small jump in October from single digits (and some days no deaths) to 15-25 deaths per day in recent weeks.
THIS IS FOR A POPULATION OF 36 MILLION PEOPLE.
Obviously, there's an important correlation – ie. do what you can to help prevent the spread of Covid – but 'flatline' is a number that most should be excited about when it comes to Covid-related deaths in Canada.
And yet, we're not really hearing that story, are we?
We get pounded daily with the number of cases, but no calming message about how the range of deaths is – besides a small recent blip – relatively minimal.
In the early days of the 'pandemic', death rates were extremely high. We were caught off guard. There was legitimate cause for concern and I don't look back on decisions that have been made. I think 'we' collectively handled ourselves very well across the planet.
There's no doubt that Covid shocked the global system, but the response was reasonable and swift and the total number of deaths faded.
As you can tell, I'm getting a little numb to the official narrative.
No … this is not a grand conspiracy (which the mainstream seem all to happy to let loose on).
If we're not seeing the number of deaths that we were 'supposed' to, why are we still living on the brink of global economic ruin and daily anxiety associated with distancing and other preventions?
Censorship Becomes Universal
Censorship has its place. I'm no fan of racist, bigoted, uninformed or potentially destructive thoughts when thrust upon the public.
FFS, Donald Trump should be censored daily for exactly these reasons.
Here's some good news: Facebook has started to ban articles and sites that question the Holocaust.
However, are we going to take this too far?
I've commented before about how any questions opposing the official narrative get painted with the broad label of 'QAnon' or 'wacky right-wing conspiracy'. I guess I'm worried that if I ask similar questions, I'll be painted with the same idiotic brush.
I'm neither and I'm bothered by the suggestion that I'm into any vast web of infantile prepper rubbish (even though I have a few jars of beans and some extra toilet paper tucked away).
However …
Got a question about a potential Coronavirus treatment, especially a vaccine that the public is plowing tens-of-billions of dollars into? YouTube will shut you down.
Asking questions about Biden's son Hunter in Eastern Europe. Facebook and Twitter will shut you down. The US Senate has now issued a  subpoena concerning these actions.
Write a book about Covid-19, questioning the official narrative? Amazon will ban your work.
Try calling out some of the details of the narrative? You get 'exposed' on the CBC. Exhibit A (Global Research) and Exhibit B (Randy Hillier).
Are we going to talk about how death by suicide and drug overdoses among teens and young adults is substantially more than that related to Covid? Don't believe me – listen to Robert Redfield, the Director of the Center for Disease Control in the US.
We're seeing, sadly, far greater suicides now than we are deaths from COVID. We're seeing far greater deaths from drug overdose that are above excess that we had as background than we are seeing the deaths from COVID. So this is why I keep coming back for the overall social being of individuals
What's happening here? When did we turn into a planet paranoia, willing to bend to the demands of the few?
An entire generation of kids and young adults are being punished for the excesses and fears of their elders.